*** We ship from the USA with USPS Express Mail. Please allow 2-3 business days for processing and shipping. ***
Professional: Include 5 different blades! You can cut food into multi shapes you want effortlessly ! Bring a lot of fun to your home cooking!  
Time Saving: Cut vegetable, fruit more quickly and averagely than kitchen knifes. Also easy for cleaning and storage.  
Safe: Protective hat keep your fingers away from hurt by blades.  
Healthy : Keep the freshness and nutrition in vegetable and fruit. Enjoy healthy food with your family or friends.  
Durable : Made with strong ABS material which can last a long time.  
It'll make quick work of the veggies of the day, whether it's onions, tomatoes, carrots, or potatoes.  
Material: Food Grade Stainless Steel+ ABS  
 Very Easy to USE
5 Pieces of Blade are made of 100% REAL Stainless Steel
 not Rust , Sharp and Durable
WALFOS Brand Vegetable Slicer Anti-Slip Design
Protect Your Hand
Make Cooking Easily
100% REAL Stainless Steel Nail in Hand Protector  
It  can hold the Food Easily to Protect Your Hand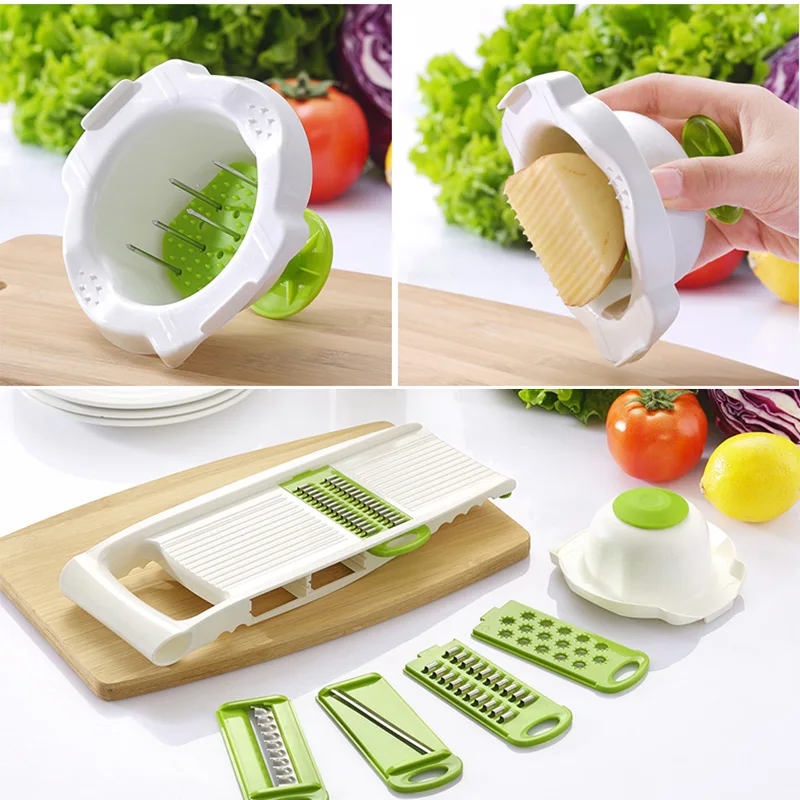 5 Different Blade for you to Choose,
They are suitable for Different Vegetable 
Very Easy to Clean
Real WALFOS slicer is made of food grade material.
The fake walfos is made of cheap material and nocuous